Call Twisted Spine & Joint for your sciatica 214-618-3991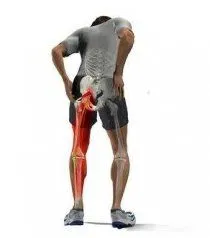 Sciatica is a term meaning "pain down the leg" which can be characterized a "pinching feeling" of the sciatic nerve. The sciatic nerves in the body are the thickest and longest nerves, in certain areas the sciatica nerve can be the diameter of a nickel, and running down from the lower to the back of each leg. The nerve fibers are those that originate from the lumbar spinal nerves. When the sciatic nerve get inflamed, occluded or affected by the irritation of injured tissues in a closely related area. Sometimes this nerve can be strangulated by very tight muscles, in some patients the nerve travels in the middle of a muscle, which coined the term piriformis syndrome.
Each person varies in their symptomatology of sciatica. The most frequently reported symptoms noted are a constant dull or boring type of pain down the back of the leg and can even travel into the foot. Loss of sensation or a pins and needles feeling can also be signs of sciatica.
The causes of sciatica can include:
Disc herniations in the lumbar region.
Subluxated vertebra of the lumbar or sacrum .
Injured soft tissue which either inflames the sciatica nerve or compresses the nerve.
Or all three of the above mentioned in combination.
The best option for all three of the above mentioned is chiropractic first.
For the very small group of people who do not improve from conservative care, a referral to the appropriate specialist will be made to find other options where the patient could be benefit from the treatment..
There are a lot of different options for treatment of the symptoms of sciatica including medication and surgical intervention, however almost all physicians would agree that conservative care should be use before any other aggressive procedure such as medication, injections, or surgery.