Call Twisted Spine & Joint for disc herniations 214-618-3991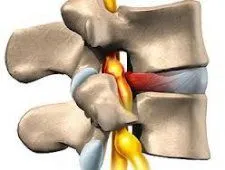 Disc injuries occur due to traumatic events like automobile accidents, sports injuries, and falls. The causes listed above seem like the most common to patients.
However, many disc herniations or injuries can be related to multiple micro-traumas that add up for a long time. Certain types of work habits, strenuous hobbies, aggressive sports, improper exercise and unhealthy lifestyle habits can all be contributing factors to disc injuries.
Combine multiple micro-traumas with a traumatic events and it's very apparent to see that disc injuries are commonly found in today's population.
There are three modes by which a disc injury can cause symptoms, the first mode is where
the "jelly-like" inner disc material has escaped for the outer disc layer, the layer responsible for holding the inner layer in, and is putting direct pressure on the nerve. The second mode is when a disc bulges and does not contact a nerve but creates a large amount of inflammation to that area which in turns irritates the nerve. The last mode is where the disc bulges and there is no direct nerve contact and small amounts of inflammation, however the disc itself has the ability to transmit pain when injured which can be felt by the patient.
The most accurate way to know if you could have a disc problem or disc herniation is to have magnetic resonance imaging (MRI) done of the area where an injury is suspected. The good news is that an MRI will show exactly where the injury is located and how severe of an injury exists. For many patients an MRI can be cost prohibitive, so at Twisted Spine and Joint Center we use digital radiography studies and orthopedic / neurological testing to evaluated if a disc injury is present in the spine.
Whether you have an MRI, or digital radiography, we find the conclusion to be the same
--CHIROPRACTIC CARE needs to be started as soon as possible. As long as you are progressing well and seeing substantial improvement, like almost all of our patients, an MRI is not needed for imaging. For our patients with severe symptoms and serious complicating factors a referral may be made to schedule an MRI or Cat (CT) scan.
A combination of chiropractic care and physio-therapies, such as traction, spinal decompression, muscle re-education, muscle strengthening or light muscle stimulation with heat or cryotherapy can play an important role in helping control the symptoms of disc herniations or injuries.